This Free Pai Gow Poker Game is provided courtesy of our friends at Spin Palace.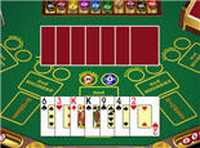 Click here to play Free Pai Gow Poker
The game may prompt you to install Active X. This is safe software from Microgaming which will download automatically.
If you have difficulty installing or running Active X you may find it works better in Internet Explorer.
Rules of our Free Pai Gow Poker Game – courtesy of Spin Palace Casino
Pai Gow Poker is a game of skill and chance between you and the Dealer. It is played with a deck of 53 cards. The extra card is a Joker. The deck is shuffled after every game.
You can qualify for Bonus Payouts if you place a Bonus bet.
The objective of the game is to form two separate hands from the seven cards dealt to you, and beat the Dealer's two hands.
You and the Dealer are dealt seven cards that are divided into two hands, a Low Hand of two cards, and a High Hand of five cards. If your High Hand and your Low Hand separately, are higher than the Dealer's corresponding hands, you win. If only one of your hands beat the Dealer's corresponding hand, the game is a tie.
The Joker is not a true wild card. It can only be used to complete a Straight, Flush, Straight Flush or Royal Flush. Otherwise the Joker is treated as an Ace.
When playing Pai Gow Poker, you can choose to have the cards automatically arranged according to the House Way rules or manually arrange your cards.
Payout Schedule
A winning hand pays out at odds of 1:1, less a 5% House Fee taken by the Casino.
Bonus Payout Schedule
You only qualify for Bonus payouts if you place a Bonus bet. The Bonus bet is made at the beginning of a game, when the main bet is placed.
The Bonus payout is determined by the hand combination of the seven cards dealt, before they are split into your High Hand and Low Hand.
The winning hand combinations are:
7 Card Straight Flush pays 8,000:1
Royal Flush plus a Pair of Deuces pays 2,000:1
7 Card Straight Flush with a Joker pays 1,000:1
Five Aces pays 400:1
Royal Flush pays 150:1
Straight Flush pays 50:1
Four of a Kind pays 25:1
Full House pays 5:1
Flush pays 4:1
Three of a Kind pays 3:1
Straight pays 2:1
Hand Rules
The Low Hand cannot have a greater value than the High Hand.
The Joker can only be used to complete a Straight, Flush, Straight Flush or Royal Flush.
The Joker is considered equal to the value of an Ace, if used in conjunction with other Aces. So, you can use the Joker to make a pair with an Ace.
If your cards do not contain any valid hands, the card of highest value must remain in the High Hand.
If you and the Dealer both have high cards of the same value, the second highest value cards are compared.
If your Low Hand value is equal to the Dealer's, the Dealer wins.
If your High Hand value is equal to the Dealer's, the Dealer wins.
If you and the Dealer have the same High Hand or the same Low Hand, it is called a Copy. The Dealer's hand wins.
If you win one hand and lose the other hand, the game is a Push. Your total bet is returned to you.
A Straight completed by a Ten, Jack, Queen, King and Ace is the highest ranking Straight. An Ace, Two, Three, Four and Five is the second highest ranking Straight. All other Straight hand combinations are ranked according to their value, and the highest ranking Straight wins.